Achuvinte Amma- Movie Review
Guess you are new here!Why don't you subscribe to this blog?Free for a limited period!RSS feed. (Ya,Right!!!) I tweet too Twitter
First time trying by bit it reviewing a mallu movie(or a movie?). Not an avid movie watcher, due to the lack of patience to sit for 2-3 hrs:-)
Title:Achuvinte Amma
Langauge:Malayalam
Dir:Sathyan Anthikad
Cast:Urvasi, Meera Jasmine , Innocent etc…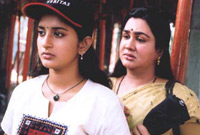 The thread begins with the woman protagonist(Urvasi as Vanaja ), a typical diligent LIC agent who becomes a Kodipathy for the third time in a row. She does not waste a second of her time and keeps herself engaged to make a living(she supplies chudidars to a ready made shop apart from the LIC thing).
The story is set in Calicut. Through out the story, the social amity in the Kerala society is shown.
A huge matrilineal Muslim household, "ruled" by Sukumari(forgot the character's name) , is in very good terms with Vanaja and her daughter Ashwathi(Meera Jasm) The story revolves aroung the Mother -Daugher relationship between Vanaja and Achu aka Aswathi. The opulence of a Malabar Muslim house hold is shown in an excellent way, how rich they are, how much they care for others….
The script has put in a lot of things from the slice of life in Kerala. Snapshots from the Kerala life include a hartal when Achu reaches Trivandrum for a PSC interview, a bus Kili who can barely manage fondling the lady passengers getting in and out of the bus. Also, the tangles(not the legal ones)that you get into when you are proactive and lodge a compaint with the cops against the subtle sexual assault(molestation???) that you suffer in a bus ….
The Madhusudanam Pilla(ASI), has done a decent portrayal of a flirtatious policeman, dialogue delivery and style very much Trivadrum ish, nice one…
The movie , even though subtly brings in family suicide(a phenomenon due very common in Kerala), the TV serial crazy junta(Vanaja's neighbour is a serial actress).
The screen chemistry between the possessive mother Vanaja and the daughter Achu is zimbly awesome. Meera has done an excellent job. Basically a female subject, Ijo, (Sunil ,Achu's friend) has done a good job.
The mom- daughter relationship slides from camaraderie to a strained after Achu decides to go with Ijo. Vanaja expects here daughter to be married into a big family with lots of people to share and care, like that of the Muslim household they share links with. The viewers question, and also Achu's question of who her dad is is unanswered till the end when Vanaja divulges that Achu is not her daughter.
Vanaja had saved hereself and Achu from the clutches of a textile unit (Tiruppur ?) owner who was about to sell her off to a Sardardji(for what else?). Vanaja was never married. Till the end we get a feeling that Achu is a daughter of a gun(a small change from son of a gun!).
After the relationship moves to a quagmire, Achu stays at her coulegaues place(she moves from here after she comes to know of the lecherus intentions of her colleague's husband , Sree ettan), goes to meets an accident after she comes to know that she has no place to stay( She goes to Sukumari's place to find her dead!). The revelation that Achu is not Vanaja's daughter and the end to the story comes in the hospital were Achu is admitted.
The ending is happy and predictable.
Lots of good humor, not to forget a part played by KPAC Lalita as marriage broker trying to find a groom for Achu and Vanaja(ha ha ha!!!).
Humor , on Sathyan Anthikad lines, very practical instances of humor, many which we could have encountered, or may encounter. Vanaja's tricks to make people take LIC policies and her ordeal to learn English will tickle your ribs. Inncocent too plays a good role.
Verdict: ***** (thats 5 stars) , Meera and Urvasi has done and excellent job.
Hats off to their screen chemistry! Sunil, a promising actor , for sure. a very much Sathyan Anthikad film…. Must watch for u!!!
Related posts:
Related posts brought to you by Yet Another Related Posts Plugin.